Latest
A portrait of Zach Sobiech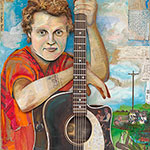 We're honored to introduce this beautiful new portrait of Zach Sobiech by Nashville artist Wayne Brezinka.
The Sobiech family commissioned the artwork, which Wayne created using Zach's clothing, song lyrics, fan letters and other personal items.
"To me, Wayne's portraits are more than just interesting interpretations of a person's face—they are portraits of a person's story," said Laura Sobiech, Zach's mom. "With all of the beauty, heartbreak and love that was part of Zach's short life, I wanted more than just another picture of Zach. I wanted the story of Zach."
You can also see Zach's portrait during an exhibition of Wayne Brezinka's work at O'More College of Design in Franklin, TN. For more details, visit brezinkadesign.com.
"ZACH SOBIECH" 2014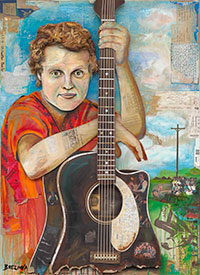 Wayne Brezinka
Cut paper, collage, mixed media on canvas
36 x 48 inches
brezinkadesign.com
Watch Wayne describe how Zach inspired him to create the portrait:
The following items, contributed by Zach's family and friends, are included in the portrait:
Banana and mustache socks from Zach's sister, Alli, because Zach always wore funny socks.
Blueberries song lyrics from Zach's friend, Sammy, who wrote the song with him.
Clouds lyrics.
Football from Zach's brother, Sam, because he, Zach and their dad would often play in the fall in their front yard.
For My Grace lyrics from Zach's sister, Grace. Zach wrote the song for her and the lyrics are in Grace's handwriting.
"Hello, my name is Roger" horse t-shirt – from Zach's girlfriend, Amy, to commemorate how they would talk about a future together with a horse named "Roger."
Landscape painting that Zach did in the seventh grade.
Letters from children in Japan, Canada, Minnesota and China.
Lourdes train ticket from Zach's trip to Europe.
Page from Zach's homework notebook. Zach was in and out of school often. When he was able, he chose to be in school.
Picture of his eighth grade friends when he went to St. Croix Catholic School.
Shoelace from Zach's friend, Sammy, the black shoelace she wore at the Varsity show.
"Spontaneously Combustible" stickers which Zach stuck all over his room.
Star Tribune newspaper clipping from the feature story on Zach.
St. Peregrine medal from Zach's mom, Laura, because Zach used to carry the medal, which he called "Perry," in his pocket wherever he went. St. Peregrine is the patron saint of cancer.
Ticket from Minnesota Vikings vs. Green Bay Packers game honoring hometown heroes game from Zach's dad Rob, to honor their tradition of watching games together.
Wristband from Zach's frequent trips to the hospital.
8-bit tie from Zach's brother-in-law, Collin, which was a groomsman gift that Collin delivered to Zach during a special trip before the wedding.
You may also be interested in: