Latest
Glamorama 2013 "Fashion in a new light"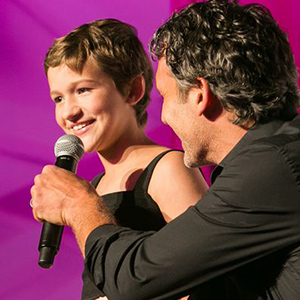 Our annual Glamorama event, held at the State Theater Friday night brought out some of the best-dressed fashionistas and circus aficionados available in the Twin Cities. The glitzy fashion, rock show and fundraiser benefiting our own Children's Cancer Research Fund proved to be one of our most successful Glamoramas.
The hour-long show featured a dance troupe from Cirque du Soleil that demonstrated a gravity-defying series of acrobatics, followed by an energetic rock performance by The Summer Set and a 4-song set by headliner Sheryl Crow. The coveted fashion segments featured top designers Maison Jules, Philosophy, Jean Paul Gaultier, Rachel Rachel Roy, Tallia Orange, Tommy Hilfiger, Weekend Maxmara and Diesel accompanied by a soundtrack of contemporary music and filmic special effects. The show and Glam Pass campaign raised more than $325,000 for pediatric cancer research – bringing the 22 year total for this program to $5.3 million.
12-year-old Yvonne Welborn together with her entire family were greeted and celebrated as this year's Ambassador family, following a touching video depiction of both Yvonne's and her family's struggle and bravery in dealing with and overcoming Yvonne's 2012 Hodgkin's Lymphoma diagnosis.
With more than 1,800 participants, the State Theater was fully packed, followed by a blow-out after party on top of Macy's rooftop, with DJs, creative cocktails and food turning Minneapolis' Hennepin Avenue into Sunset Boulevard for one night. Thank you to all participants, volunteers, vendors, sponsors and spectators for such a successful Glamorama!
To see our photos from Glamorama, visit our Facebook page.
To see photos from the Patrón photo booth, click here.
See what everyone else is saying:
You may also be interested in: