In Remembrance of Dr. John Ohlfest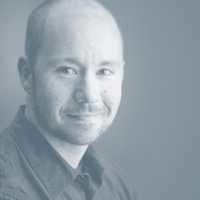 I am deeply saddened to report to you that John Ohlfest, Ph. D. passed away on January 21, 2013. John had been battling recurrent metastatic melanoma since the summer of 2012. John leaves behind his wife Karen and two children, Grace and Lucas.
John was the first faculty member to hold the Hedberg Family/Children's Cancer Research Fund Chair in Brain Tumor Research, an honor that meant a great deal to John. He was also an Associate Professor, in the Division of Pediatric Blood and Marrow Transplantation and also held an appointment as Director of the Department of Neurosurgery Gene Therapy Program.
I first got to know John in early 2008 as he was beginning his work on developing a vaccine for a type of brain cancer known as glioblastoma multiforme, for which Children's Cancer Research Fund was an early and avid supporter. His focus on vaccines and exploring how to harness the power of the immune system to fight cancer will be his legacy.
"

So few have the intellect to understand nature, and fewer still have the passion and drive to add to the world's knowledge.

"
What impressed me most about John was his passion for the work and his tenacity to bring better outcomes to young patients battling brain tumors. Though just 35 years old, John was gaining worldwide recognition, and the funding that follows, for his innovative approaches to immune therapies. Many of you may recognize John for his work in partnering with the U of M's Veterinary School of Medicine and his work with pet dogs who were suffering from brain tumors. This is just one example of how his research broke the mold and pushed boundaries.
In addition to being a brilliant scientist, John was an equally gifted communicator. He had that rare ability to explain complex science in a way that was understood by all. He was always ready and willing to support our cause, speaking at events and hosting research tours with our supporters. Attendees would leave those sessions impressed and amazed, but not overwhelmed.
The fight against cancer can be daunting, and we need all the soldiers we can muster to win that fight. It's so unfair that cancer has claimed one of the true soldiers. When I mentioned John's prognosis earlier this winter to a supporter who was aware of John's work, he responded:
"So few have the intellect to understand nature, and fewer still have the passion and drive to add to the world's knowledge, giving a bit of hope to the quest to cure diseases. To lose one of these few is everyone's loss."
I couldn't have said it any better. John Ohlfest – you will be missed.

John Hallberg
CEO, Children's Cancer Research Fund
Dr. John Ohlfest Obituary
Read Dr. Ohlfest's obituary notice in the Star Tribune to find information on his memorial service planned for Friday, January 25.
Ohlfest Memorial Education Fund
The family has requested that any memorials be directed to the Ohlfest Memorial Education Fund, established to provide for the education of John's children. Donations can be made to this fund at any Wells Fargo location or by mailing your donation to: Ohlfest Memorial Education Fund, PO Box 131477, Roseville, MN 55113.