Join in the race against childhood cancer at Time to Fly! Every step brings us closer to a cure for childhood cancer. Registration is now open! Rally your family and friends to join your team and collect donations – all to benefit Children's Cancer Research Fund and our mission to find a cure for childhood cancer.
New in 2014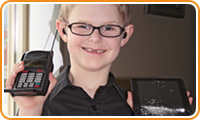 Upcycle Electronics Program
Our new Upcycle Electronics Program turns retired electronics, otherwise known as electronic waste (e-Waste), into charitable giving that will be applied to your Time to Fly fundraising goal! E-Waste is a global epidemic and contains cancer causing toxins that are polluting the environment and our health. By collecting and Upcycling retired cellphones, laptops, tablets and other mobile devices, we will help eliminate e-Waste while creating funds to support Children's Cancer Research Fund.
Help reach your fundraising goals by asking your friends, family and colleagues to donate their smartphones, laptops, iPads, iPods, MP3 players and more. It is as simple as asking them to print a free shipping label (available under the donate electronics link), enter your team or individual name and send it in via UPS. Items must be post marked by May 9, 2014 to be included in totals for event day recognition.
Strolling Magician
Join strolling magician Brian Richards as he amazes you with his magic and balloon creations and delights you with his comedy. What makes this so unique is that strolling magic is shared close up with groups of 4-6 people at a time. Watch for Brian as he strolls the grounds of Harriet Island between 8-9am! Enjoy the magic, delight in laughs and have some magical FUN!
Returning in 2014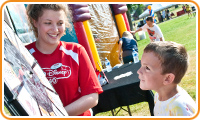 Radio Disney AM1440 and the Radio Disney Road Crew
The Radio Disney Road Crew will join us once again this year to entertain participants, young and old! Look for Radio Disney AM 1440 and the Radio Disney Road Crew entertaining you in the family area. Their high energy music, dancing, themed activities, contest and games will keep you on your feet.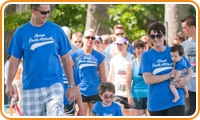 5K Walk to Cure Children's Cancer
In recognition of the incredible team spirit of the 5K walk, we honor the families, friends, co-workers and teams who walk, united for our cause. To inspire further participation, there is once again no entry fee for the walk if registered by June 15. A $100 fundraising goal is encouraged. You won't want to miss this inspirational, signature event!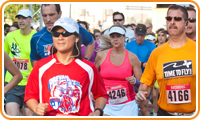 Chip-timed 10K and 5K Running Events
Our 10K and 5K running events are held on a one of the most scenic certified courses in the Twin Cities. Events are chip-timed to help participants track their personal running goals.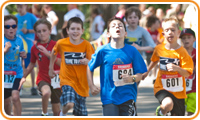 Kids' Fun Run
Kids of all ages love this Time to Fly tradition! Cheer on cancer survivors, their siblings, friends and kids who are running in honor of kids who are sidelined by cancer. Each participant will receive a Time to Fly youth t-shirt, ribbon and other prizes. There is no entry fee for the kids' fun run if registered by June 15.