Join in the race against childhood cancer at Time to Fly! Every step brings us closer to a cure for childhood cancer. Registration is now open! Rally your family and friends to join your team and collect donations – all to benefit Children's Cancer Research Fund and our mission to find a cure for childhood cancer.
Returning in 2014
Early bird registration!
Be sure to take advantage of discounted pricing by getting registered early. By registering early you will have more time to recruit team members, raise additional donations and prepare for the race. Early bird registration ends March 31, 2014.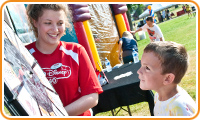 Radio Disney AM1440 and the Radio Disney Road Crew
The Radio Disney Road Crew will join us once again this year to entertain participants, young and old! Look for Radio Disney AM 1440 and the Radio Disney Road Crew entertaining you in the family area. Their high energy music, dancing, themed activities, contest and games will keep you on your feet.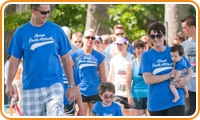 5K Walk to Cure Children's Cancer
In recognition of the incredible team spirit of the 5K walk, we honor the families, friends, co-workers and teams who walk, united for our cause. To inspire further participation, there is once again no entry fee for the walk if registered by June 15. A $100 fundraising goal is encouraged. You won't want to miss this inspirational, signature event!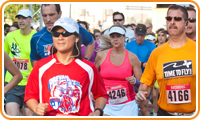 Chip-timed 10K and 5K Running Events
Our 10K and 5K running events are held on a one of the most scenic certified courses in the Twin Cities. Events are chip-timed to help participants track their personal running goals.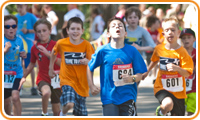 Kids' Fun Run
Kids of all ages love this Time to Fly tradition! Cheer on cancer survivors, their siblings, friends and kids who are running in honor of kids who are sidelined by cancer. Each participant will receive a Time to Fly youth t-shirt, ribbon and other prizes. There is no entry fee for the kids' fun run if registered by June 15.