Zach Sobiech: Finding Peace Through Music
Home » Zach's Story: Finding peace through music
A portion of the proceeds from these items go to the Zach Sobiech Osteosarcoma Fund:
Digital Music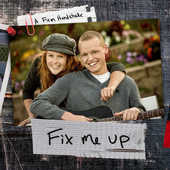 Fix Me Up
Zach Sobiech's A Firm Handshake's sophomore album, which went to #1 on the Billboard Folk chart, includes the hit song, 'Clouds', and beautiful duets with his long-time friend, Sammy Brown. This special edition also includes an acoustic version of "Clouds" played by Zach Sobiech.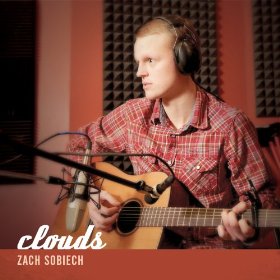 Clouds - Single
"Clouds" is also available as a single on iTunes.
Music on CD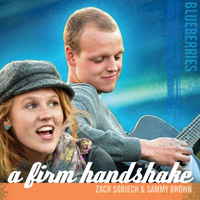 Blueberries
Available exclusively here, Zach's debut album with his band, A Firm Handshake, features covers and original songs, including the radio and acoustic versions of 'Clouds' and its viral hit music video.
Custom Keychain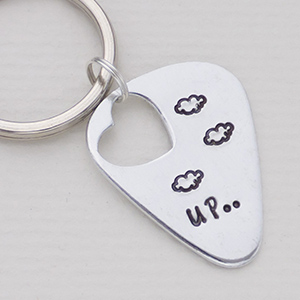 Cathy's Creations Jewelry has created this custom pick keychain in memory of Zach. "Up" is stamped on an aluminum guitar pick with heart cut. $5 (all profits) from the sale of each keychain will be donated to the Zach Sobiech Osteosarcoma Fund.
How You Can Participate in Osteosarcoma Research
Thanks to your donations, Children's Cancer Research Fund's Zach Sobiech Osteosarcoma Fund can support the Biology of Osteosarcoma (BOOST) Registry and Biobank. The goal of the biobank is to predict who is going to get osteosarcoma, learn how to catch the disease early-on and increase survival.
Patients and families can participate in research online to help scientists understand why children and young adults get osteosarcoma. It's open to any osteosarcoma patient at any age, no matter how long ago they were diagnosed. Families of those who have passed away from osteosarcoma are encouraged to register as well. We want to get 500 patients and families enrolled.
Here's how you can help:
If you have/had osteosarcoma or you're a parent of an osteosarcoma patient, you can participate here. If you know someone who has been affected by osteosarcoma, please share this link with them.
You're helping find a cure for osteosarcoma
With your donations, the Masonic Cancer Center, University of Minnesota created an osteosarcoma researcher "dream team," positioning them at the forefront of osteosarcoma research in the United States. Researchers hope that they will soon be able to design more effective, customized therapies that minimize the devastating side effects of current osteosarcoma treatments. This year, new donations to the Zach Sobiech Osteosarcoma Fund will help doctors put a new drug into clinical trials. Thank you for continuing Zach's legacy. Read More
Grants from the Zach Sobiech Osteosarcoma Fund Help Advance Cancer Research
Unlike some tumors, osteosarcoma is genetically complicated and difficult to understand using traditional research methods. Because of the complicated nature, researchers haven't been able to fully trace the genetics of this devastating bone cancer—until now. Grants from the Zach Sobiech Osteosarcoma Fund has helped Branden Moriarity, PhD advance his initial research, giving him enough data on the disease to apply for and win an additional grant. Dr. Moriarity now has the funds to focus entirely on osteosarcoma research over the next two years.Read More
A Portrait of Zach Sobiech
We're honored to introduce this beautiful new portrait of Zach Sobiech by Nashville artist Wayne Brezinka.
The Sobiech family commissioned the artwork, which Wayne created using Zach's clothing, song lyrics, fan letters and other personal items.
"To me, Wayne's portraits are more than just interesting interpretations of a person's face – they are portraits of a person's story," said Laura Sobiech, Zach's mom. "With all of the beauty, heartbreak and love that was part of Zach's short life, I wanted more than just another picture of Zach. I wanted the story of Zach."
For a detailed list of the items used to create the portrait and to watch a video about Wayne's process, click here.
You can also see Zach's portrait during an exhibition of Wayne Brezinka's work at O'More College of Design in Franklin, TN. For more details, visit brezinkadesign.com.
"ZACH SOBIECH" 2014
Wayne Brezinka
Cut paper, collage, mixed media on canvas
36 x 48 inches
brezinkadesign.com
My Last Days: The Zach Sobiech Story, One Year Later
Watch the new follow-up video of the gripping and immensely popular "My Last Days" documentary by SoulPancake, showcasing Zach's family and friends a year after his death. This new documentary checks in on how their lives have changed since losing Zach, as well as the remarkable legacy of hope that he has inspired.
This video was produced by Wayfarer Entertainment. Wayfarer Entertainment was founded by director/actor Justin Baldoni and is best known for their original, Webby award winning documentary series My Last Days which they produced in collaboration with Soul Pancake.
Fly a Little Higher
Laura Sobiech's long awaited and much anticipated memoir chronicling her son Zach's battle with cancer and the story behind his hit song "Clouds" is available now.
Relive the remarkable true story of a mother's love, a son's bravery and a song that touched millions.
Zach's Story, and the Clouds' Silver Lining
Zach Sobiech, 18-year-old teen from Stillwater, Minn., was never far from his friends, and his guitar.
Upon his diagnosis of terminal cancer in May 2012, Zach turned to music in a big way - writing and performing songs as a way to say goodbye, at first to his friends and family, and then to the world when millions who became affected by Zach's heartfelt lyrics and irresistible positivity in the face of adversity.
When Zach passed away on May 20, 2013, his fans pushed 'Clouds' to up to #1 on iTunes, Spotify and the Billboard charts – a fitting tribute to a remarkable young man.
"

I want to be remembered
as a kid who went down fighting, and didn't
really lose.

"
Zach bravely battled osteosarcoma, a rare bone cancer, with which he was diagnosed at age 14. As the disease progressed, doctors had no more effective treatment options to offer him a cure. Still, Zach decided to live like he always had, with a smile on his face, embracing every day with hope and joy.
Zach and his and his family started the Zach Sobiech Osteosarcoma Fund at Children's Cancer Research Fund, and directed proceeds from his music and other fundraisers held in his honor to help researchers find better treatments to prevent and cure this devastating disease.
"

In collaboration with sarcoma expert Dr. Brenda Weigel, a multi-phase research project is now underway.

"
In collaboration with sarcoma expert Dr. Brenda Weigel, one of Children Cancer Research Fund's Chief Medical Advisors and Zach's primary doctor, a multi-phase research project is now underway. The project has brought together an A-team of basic and translational scientists with outstanding records of achievement in sarcoma research, including a veterinarian who treats canine patients with osteosarcoma. The partnership with Children's Cancer Research Fund allows 100% of donations made to Zach's Fund to go directly towards research.
Cancer may have taken Zach too soon, but his spirit remains a beacon of light and benevolence in a world that sometimes weighs too heavily. He has received several prestigious awards posthumously; his video for 'Clouds' was awarded an Upper Midwest Emmy award, and Katie Couric presented him with the Dream Maker Award, Children's Cancer Research Fund's highest honor. His fund for osteosarcoma research keeps growing, now at more than $700,000. He will continue to inspire his family, his community and his fans to continue to help the children of tomorrow who learn that they have osteosarcoma.
We'll see you again, Zach, up in those clouds.
Inspiring My Last Days documentary about Zach
Rainn Wilson's SoulPancake beautifully chronicled some of Zach Sobiech's last days.
Celebrities pay tribute to Zach through song
Bryan Cranston, Jason Mraz, Sarah Silverman and others honor Zach in what People magazine called, "The best celebrity shout out ever."
Zach Sobiech KS95 Largest "Clouds" Choir
One year after KS95 debuted "Clouds," 5,000 fans gathered at Mall Of America for KS95′s Ryan & Shannon's Largest Clouds Choir to remember Zach.
The music video of 'Clouds', the song that started it all
Zach in the News
From startribune.com
May 1 | It turns out that Zach Sobiech wasn't the only member of his family who can inspire people through words.The Lakeland teenager became an international sensation after he was diagnosed with cancer and wrote a farewell song titled "Clouds." Now his mother, Laura Sobiech, has written a moving book that she hopes will help other families. Read More
From kare11.com
April 26 | Millions around the world were touched by the story of Zach Sobiech and were first introduced to him through his uplifting song, "Clouds." And since Zach has passed away after a valiant fight with cancer, his mother, Laura Sobiech, has gone on to write a memoir about Zach's story called, Fly a Little Higher: How God Answered a Mom's Small Prayer in a Big Way. Read More
Dec 6 | On December 6, 2012, during Ryan & Shannon's KS95 for Kids Radiothon, KS95 debuted a song by Zach Sobiech, a teen with cancer, called "Clouds." Zach and the song became a worldwide sensation, touching the hearts of millions. One year later 5,000 fans gathered at Mall Of America for KS95′s Ryan & Shannon's Largest Clouds Choir to remember Zach, who passed away in May of 2013.
From people.com
Nov 25 | Weeks after PEOPLE ran a story about teenage cancer patient Zach Sobiech's touching farewell song, "Clouds", the Minnesota native passed away at age 18. Millions will remember the song – written when Sobiech was told he had less than one year to live – for its tearjerker of a celebrity cover, and more notably, for its beautiful lyrics. Read More
From kare11.com
Nov 3 | The Children's Cancer Research Fund's Dawn of a Dream Gala was highlighted on Saturday night with a very special award given to a Lakeland teen that captured the heart of a nation. Read More
From bringmethenews.com
Sep 29 | A dying Stillwater teenager who gained international acclaim for his musical farewell joined broadcasters from across the region as winners at the 14th annual Upper Midwest Emmy Awards Saturday night in Minneapolis. Read More
From twincities.com
Sep 19 | Sobiech is the Lakeland teenager whose song "Clouds" became an Internet sensation shortly before he died of cancer in May at age 18. Read More
From People.com
May 10 | This could easily be the most moving celebrity shout-out of all time. Zach Sobiech, 17, inspired millions with his cancer fight and the farewell song he penned, "Clouds." Read More
From Star Tribune
Jan 7 | All Zach Sobiech wanted to do was to say goodbye to his family and friends. Read More
From KARE 11
Jan 7 | Aspiring musicians are always on a mission to get their music heard. Zach Sobiech now has that covered. Read More
From CNN.com
Dec 14 | CNN's Ed Lavandera reports on a teen battling terminal cancer with a song and a smile. Watch Video
© 2017 Children's Cancer Research Fund
Please note: All information presented on childrenscancer.org is for informational purposes only. It is not specific medical advice for any individual.